The President of the Latvian Athletic Association (and a Former Olympic Athlete) Has Popped Positive for PEDs
It's not every day that you see a high up official for a national athletic association being busted for using performance-enhancing drugs, particularly when that individual had been a top-tier international athlete responsible for representing their country at the Olympic Games.
That's the exact situation and that Latvia finds themselves in right now, with their current President of the Latvian Athletic Association coming under fire after being provisionally suspended because of an Anti-Doping Rule violation.
According to information released by the International Olympic Committee, information disseminated by the Athletics Integrity Unit of that same governing body, Ineta Radevica – the athlete and executive in question – has been accused of taking anabolic steroids in the lead up to and during the 2012 Summer Olympics in London while she was competing there.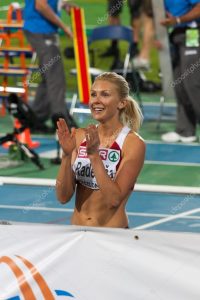 A lot of people are surprised that the IOC would hand down any suspension so long after competition, but this organization has been working to take advantage of new and advanced anti-doping detection protocols and technology to "back test" samples from the 2004, 2008, and 2012 Olympics that have been held in storage.
This is all a big part of the new retroactive suspension initiative push forward by the IOC, and initiative that has been heralded as the "next big thing" in the world of international sport by its supporters and a travesty of justice by those that feel that athletes should be given some sort of statute of limitations before they have their careers and reputations dragged through the mud with suspension years and years after they've left competition
While Radevica wasn't ever able to reach the podium at the Olympics, it would be a major understatement to call her and accomplished athlete that had secured a spotless career in the long jump.
She was able to win gold at the 2010 European Championships, something she followed up with a silver at the 2011 World Championships, and she was selected to the Latvian Olympic team on two separate occasions – both in 2004 and later in 2012.
A significant amount of attention was placed squarely on her shoulders in a follow-up to the 2004 Athens Olympics, not because of anything she necessarily did at the summer games held that year but because of her decision to pose completely nude – alongside a dozen or more other female Olympic athletes – in a special edition of Playboy magazine.
A fair amount of controversy has been stirred up by the decision of the IOC to hand down a provisional suspension to Radevica following these back tested results, and a significant chunk of that criticism is coming out because Radevica has been retired from sports competition for more than six years.
At the same time, Radevica remains incredibly involved with the Olympic team of Latvia and the national initiatives for international sports and athletics in her home country – as evidenced by the fact that she remains the president of the Latvian Athletic Association (even still today).
Pressure is beginning to mount to have Radevica resigned from her position due to this provisional suspension from the IOC, but no decision has been made as of yet. Radevica has vowed to fight back against this back tested results, is appealing the suspension with zero interest whatsoever in continuing her competitive career, and is hoping to use this moment as a teaching lesson to young athletes around the world about the dangers and pitfalls of getting mixed up with performance-enhancing drugs altogether.
Expect more news regarding this situation to leak out towards the end of 2018 and into the beginning of 2019 for sure.
Source: http://www.espn.co.uk/olympics/story/_/id/25383114/long-jumper-ineta-radevica-fails-olympic-doping-retest