One of the most promising young bodybuilding athletes of the last 10 years has found himself suspended from international and domestic competition for the next two years after getting busted for using anabolic steroids.
Osaf Yaqoob, a young Pakistani bodybuilder, had an absolutely fantastic year for his bodybuilding career in 2017.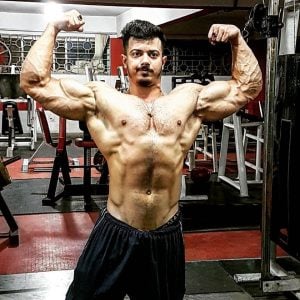 After working hard for about five years to take home the Mr. Islamabad Title – and coming up just short time and time again – he was finally able to dominate the competition and take home the top award in 2017. He followed that up with two more gold medals at the 2017 MuscleMania Asia Natural Championships that were hosted in Singapore that year, with plans to return in 2018 and defend his titles.
It certainly looks like Yaqoob isn't going to have an opportunity to do that any longer.
Recently turning professional by winning the last two competitions we highlighted above, it looked like Yaqoob was going to be the next big thing in the Asian region as far as bodybuilding was concerned. Pakistan has produced a dozen or more top-flight athletes in this field, but Yaqoob was particularly young and had a physique that could have taken him to the heights of the competition a lot faster than most people would have expected possible.
Because of the positive test for anabolic steroids, however, Yaqoob has found all of his titles stripped and his prize money refunded – and it's unlikely that he will ever have an opportunity to compete in any "natural" category of competition from here on out.
This is especially trying for the young athlete right now, as he had been notified of his suspension just a few days short of stepping on stage in Las Vegas and competing at the 2018 MuscleMania Classic and Bodybuilding Championships.
Yaqoob had been incredibly active on social media, posting pictures of himself and his team getting ready for the competition as well as pictures from his suite and just some of the "downtime" activities that he was participating in throughout Las Vegas. A lot of these photographs showcased the legendary South Point Hotel, Casino & Spa, the venue for the upcoming competition as well as one of the most popular hotspots for bodybuilders and fitness enthusiasts to stay at when they are in Las Vegas.
It is interesting, however, that a number of social media users that had been carefully following the career of Yaqoob noticed that some of the pictures he was posting in the lead up to this 2018 of that appeared to show early development of gynecomastia – a surefire sign and symptom of someone that has been using and abusing performance-enhancing drugs.
The social media users were pretty vocal on Yaqoob's account, calling him out as a PED user before news of the suspension broke and telling him that he had no place competing against natural athletes if he was clearly "running gear".
Like so many other professional athletes before him, Yaqoob has decided to immediately deny having ever used performance-enhancing drugs while at the same time acting incredulous regarding the positive PED test that potentially has him out of competition for at least the next two years.
In broken English, he posted to his social media accounts that he is going to provide proof that he hasn't been using performance-enhancing drugs, that the media has been out to get him, and that the folks behind the MuscleMania competition have always tried to hold him back.
The entire MuscleMania card has always revolved around "natural bodybuilding", even though it has one of the weakest anti-doping protocols and policies in the sport. It'll be interesting to see how everything shakes out, particularly if Yaqoob really does move forward with trying to get the WADA involved in the testing protocols to determine whether or not his samples were legitimately tainted or contaminated (as he contends).
Source: https://www.samaa.tv/sports/2018/11/two-pakistani-bodybuilders-tested-positive-for-doping/