Major League Baseball (MLB) has put in place some of the more rigorous testing protocols in all of sports to find Performance Enhancing Drug use, but still players at all levels continue to try and test this protocol – hoping to find a way around the system so that they can continue to take these PEDs.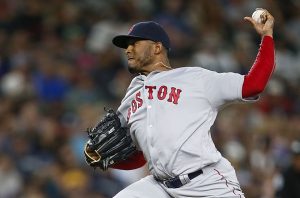 Unsurprisingly, the overwhelming majority of them are caught and immediately suspended a minimum of 80 games – and that's exactly what happened to MLB free agent Fernando Abad.
Last playing in the big leagues in 2017 for the Philadelphia Phillies, Abad was released just a few weeks after he had signed his minor-league deal with an option to attend big-league camp and compete for a spot the MLB roster during Spring Training.
It was reported that Abad was close to signing a deal with the New York Mets, a deal that would have seen him returning to big-league play, as the Mets have been dealing with a devastating pitching rotation and a depleted bullpen and could use pretty much any help they could find.
However, the Mets gave up all ideas of signing Abad to a deal just as soon as they discovered that he had potentially tested positive for anabolic steroids in his system – and it wasn't much longer after the Mets decided not to continue to pursue contract negotiations that official news was released to confirm these suspicions.
Under the Joint Drug Prevention and Treatment Program established between the major leagues and the minor leagues, Abad was given and 80 game suspension that applies to both of these leagues.
Abad is expected to appeal his suspension, as he is going to argue that he was officially a free agent when he tested positive for the PEDs and that he shouldn't have to carry any suspension whatsoever since he wasn't officially a part of either of these two professional leagues.
Major League Baseball is arguing that Abad is in fact eligible for the suspension that has been handed down due to the fact that he played for the Phillies minor-league team when his urine sample was collected. This is the sample that popped positive for the anabolic steroids, and it obviously suggests that he was using PEDs when he was trying to make his comeback and officially signed to the minor-league affiliate of that major league team.
Like the overwhelming majority of professional MLB players that have popped positive for PEDs before him, Abad vehemently denied that he had knowingly used any PEDs or anabolic steroids.
Unlike the overwhelming majority of professional MLB players that have popped positive for PEDs, however, Abad stood in front of cameras and owned up to the fact that he had been suspended for 80 games, commented that he never knowingly cheated the game of baseball in the 12 years that he had played at the major-league level, and that he was going to find a way to get back to the big leagues once his suspension had closed.
Abad appealed his suspension, was open and honest with MLB officials throughout the process, but still was handed the mandatory minimum 80 game suspension for all first-time PED positive tests. He said that he understood the process, understood the decision, and appreciated the time and the candor that MLB officials had expressed throughout the entirety of the appeal.
Abad finds the situation "unfortunate", but he is committed to dealing with the fallout and is moving forward in his quest to get back onto a big-league roster. Abad is the 41stminor league ball player to have tested positive for PEDs this year alone, with eight big league players having been suspended for the same kinds of violations in 2018 already.
Source: Associated Press. June 7, 2018. Fernando Abad given 80-game drug suspension. Retrieved from: https://www.washingtonpost.com/gdpr-consent/?destination=%2fsports%2fnationals%2ffernando-abad-given-80-game-drug-suspension%2f2018%2f06%2f07%2fc03b72f6-6a96-11e8-a335-c4503d041eaf_story.html%3f&utm_term=.7883c0b3e90f