Major league baseball pitcher, Thomas Pannone, who is a player for the Toronto Blue Jays has produced a positive test result for the use of dehydrochlormethyltestosterone which is also known as Turinabol. The Major League Baseball has reported that the short name for this steroid is DHCMT, which is as false as it is laughable. It is not and has not ever been known as the acronym DHCMT, but instead Oral Turinabol. Regardless of the name that is being used for this anabolic steroid, the fact remains that Thomas Pannone has tested positive for its use.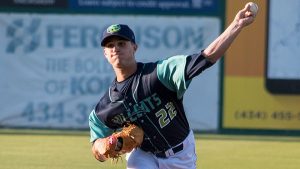 The MLBPA (Major League Baseball Players Association) informed Thomas Pannone of his positive test result for the use of the oral steroid buy a telephone call on January 30th, 2018. The Major League Baseball office of the commissioner handed down a suspension of 80 games to him on the 16th of March 2018. The official line for the suspension watch that he had violated the Major League Baseball's treatment and Drug prevention program. This latest positive test result further builds up the reputation of the Blue Jays organization as being the most juiced up team in the major league baseball.
As is common with many of the other players who have been caught with anabolic steroids being in their system, he vehemently denied using any anabolic steroids knowingly or using any banned PEDs (performance enhancing drugs). After testing positive, he released a statement which made his frustration known about being suspended despite the fact that he claims to be innocent. He said that he had never used any performance enhancing drugs throughout his career and has used every day since the 30th of January by trying to work out how DHCMT could have been discovered in his urine sample.
He continued by saying that he had performed a lot of research on the drug and had tried to do everything in his power to be able to prove his innocence, however, he has been left deeply concerned and troubled. He also decided to undertake a lie detector test over a period of 3 hours as a means of proving his innocence. Despite the lie detector test, the MLB stood firm with its decision to suspend him for the drugs offense. The outcome of the lie detector test showed favorable results that indicate his innocence, where he got one of the highest scores that are possible. The general manager of the Blue Jays, Ross Atkins has full faith in the players' integrity and character and insists that he is convinced that the player never knew about the steroids that he was taking and was being truthful about this fact.
He continues by saying that he had personally known Thomas Pannone for the entire time that he is being involved in professional baseball and throughout this time he has shown himself to have an exceptionally high level of integrity and character, so when he heard the news he was extremely surprised. Additionally, he continued by saying that when Pannone I started that he had no idea how the substance had entered his system, he believed his words. The use of oral turinabol is one that is not uncommon in the MLB.
Thomas Pannone is one of many who has been discovered to have the substance in his system, along with Chris Colabello, of the Toronto Blue Jays, Dean Deetz of the Houston Astros, and Alec Asher and Daniel Stumpf of the Philadelphia Phillies have all produce positive tests for the banned substance too. Its popularity stems from the fact that athletes could use the anabolic steroid and be able to pass the drug test, but this looks like it no longer applies.
Source: http://www.espn.co.uk/mlb/story/_/id/22798577/toronto-blue-jays-pitcher-thomas-pannone-suspended-80-games-positive-drug-test
Biomedical Science Graduate. After completing the educational and research requirements for a PhD in Biomedical Science, Dan is currently studying at York University in Toronto, Ontario, Canada and has less than a year before joining the Medical Board becoming an MD and qualified Doctor. Dan's educational emphasis is on performance enhancement drugs (PEDs), endocrinology, nutritional supplements and strategies for health, fat reduction, anti-ageing, muscle growth, disease control and vaccinations. Dan has had an interest in learning and writing about steroid use for over 15 years.