Anyone that has been following the MLB (Major League Baseball) for any amount of time understands just how seriously they take performance-enhancing drug abuse and just how diligently they have been working to clean up baseball from the "Wild West" of the 1980s, 1990s, and early 2000's.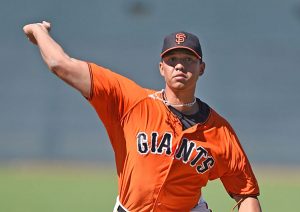 Performance-enhancing drug use – particularly anabolic steroids – in the MLB was absolutely overwhelming during those three decades, so much so the thing that really helped to "save baseball" after the 1994 strike was the 1999 season when Mark McGwire and Sammy Sosa went head-to-head trying to break the single-season home run record while looking like action figures crossed with Arnold Schwarzenegger!
A congressional investigation brought on sweeping changes throughout the major leagues, and today this is one of the professional sports in America that takes performance-enhancing drug (PED) use, steroid abuse, and PED testing about as serious as any other. Their punishments are some of the most severe and significant for even first time offenders, which is exactly what the San Francisco Giants top-pitching prospect is.
Joan Gregorio, a picture currently with the AAA minor-league affiliate for the San Francisco Giants is considered to be one of the most impressive prospects in a long time. At 6 foot seven and weighing in at 180 pounds, this right-hander has the ability to hit digits on the radar gun and also has the command of a number of other very impressive secondary pitches. This has led him to be one of the most coveted prospects in all of baseball, and when he chose to sign with San Francisco the franchise believed they were getting the "next big thing" to partner up with Madison Baumgartner.
Unfortunately, in July 2017, Joan Gregorio was left with a full one-year ban and thrown out of baseball for the rest of 2017 because he popped positive for the anabolic steroid Winstrol (Stanozolol) in a random drug test administered under the MLB and Minor League Baseball joint performance-enhancing drug protocol.
47 other players throughout the major leagues also tested positive and have been suspended for the rest of 2017, including other pictures with the San Francisco Giants. Though it seems like 47 players getting busted in a single sting for performance-enhancing drugs would be a major blackeye against the sport, the truth of the matter is this is a shockingly low number compared to the sheer volume of minor-league baseball players and major league players currently active (we're talking about thousands of players here) and is a far cry from the nightmare that was the 1990s and early 2000's.
Joan Gregorio has been very upfront and very honest about the fact that he did use the performance-enhancing drug and anabolic steroid that they accused him of using and he is completely cooperating with the investigation. Many in baseball believed that this player was going to be called up in September (and possibly even August) if it weren't for a lower back injury that sidelined him for an entire month.
Still quite young, the career that Joan Gregorio anticipated having with the San Francisco Giants may no longer exist depending upon how things unfold in the future. Still a very popular and exciting prospect, the Giants would shortly love to have him back in the fold – but this is the last option year that the Giants control the players writes before they lose him to waivers. It'll be interesting to see what Giants management does in regards to Joan Gregorio and how this young player bounces back from this latest moment of real adversity.