Julian Edelman, a critical part of the wide receiver core for the New England Patriots, has recently been suspended by the NFL after he tested positive for a prohibited substance.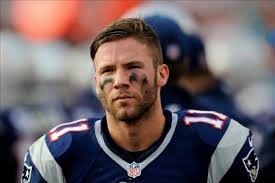 This is a direct violation of the NFL Policy on Anabolic Steroids and Performance Enhancing Drugs, resulting in a four-game suspension and the forfeiture of north of $1 million in wages. This is the first time that the 32-year-old wide receiver has popped positive for performance-enhancing drugs, as well as the first time he has been suspended – and Edelman is anticipated to appeal the suspension due to the unusual circumstances surrounding the situation.
Last year, Edelman went down with a torn ACL injury before the first game of the year and miss the entirety of the season as well as the playoffs (including the Super Bowl loss to the Philadelphia Eagles).
Undersized compared to most wide receivers, many that heard the news about Edelman popping positive for performance-enhancing drugs assumed that the 32-year-old was trying to find an edge to speed up his rehabilitation from the ACL injury.
However, new reports – directly from the NFL, as well as from the New England Patriots and the agent of Julian Edelman – are coming out that Edelman has been suspended for testing positive for a substance that the NFL and its testing agency cannot identify.
This is where the unusual circumstances come into play.
Edelman waited a couple of days after the news of his suspension had broken to address the public, reporting on his Instagram page that he had absolutely no idea how or why he had tested positive for prohibited substances. He went on to apologize directly to the fans and the organization, but also went out of his way to make sure that he didn't take responsibility for utilizing any performance-enhancing drugs, anabolic steroids, or other similar substances.
We now know this is because the NFL has suspended Edelman for utilizing a substance that they cannot identify, a substance that they aren't aware of, and a substance that they cannot conclusively prove is performance-enhancing or otherwise.
This is the first such time that this kind of suspension has been handed down and Edelman is appealing it directly. The NFL is actively trying to suspend an active player for utilizing a substance that they may or may not have taken, and is trying to suspend a player for a substance that they themselves cannot even describe.
His personal trainer (the same personal trainer for legendary quarterback Tom Brady) has gone on the record as stating that Edelman is not and has not ever been known to take advantage of performance-enhancing drugs but is instead one of the hardest working athletes he had ever worked with. He expressed full confidence in Edelman that he hasn't used PEDs and at the conclusion of his appeal he will be reinstated to play alongside the rest of the New England Patriots all that has come to depend so much upon him.
A number of Edelman's teammates have come forward to defend and support him, as has the owner of the New England Patriots, Mr. Robert Kraft. Tom Brady himself stands behind Edelman (one of his favorite targets) and expects Edelman to contribute significantly to the team just as soon as he is able to hit field.
The appeal process for the suspension is already underway but details are very scarce. These kinds of appeals take a significant amount of time, but the appeals process is anticipated to have concluded by the time training camp opens next month. Edelman is still eligible to practice with the team throughout the summer and into the fall until the conclusion of his appeal.
Source: http://www.skysports.com/nfl/news/12040/11426164/new-england-patriots-wideout-julian-edelmans-four-game-ban-upheld-after-appeal
Biomedical Science Graduate. After completing the educational and research requirements for a PhD in Biomedical Science, Dan is currently studying at York University in Toronto, Ontario, Canada and has less than a year before joining the Medical Board becoming an MD and qualified Doctor. Dan's educational emphasis is on performance enhancement drugs (PEDs), endocrinology, nutritional supplements and strategies for health, fat reduction, anti-ageing, muscle growth, disease control and vaccinations. Dan has had an interest in learning and writing about steroid use for over 15 years.