Jones, a former Ultimate Fighting Champion in the light heavyweight class, has had numerous run-ins with UFC officials, run afoul of performance-enhancing drug tests, and has basically eviscerated his reputation in the sport that was all but ready to crown him the "next big thing" in mixed martial arts.
Making his debut in 2008, Jones put on a show when he absolutely lit up his opponent and achieved a unanimous victory in his very first fight. He went on to completely dominate all comers for the next three years before becoming the youngest UFC champion in the sport's history in 2011 at the age of 23.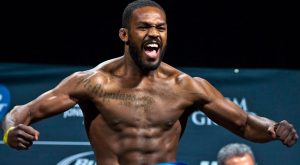 Considered to be pound for pound one of the most impressive mixed martial artists on the planet, as well as one of the most skillful strikers and ground game rollers, Jones had a unique combination of size, power, and speed that the sport wasn't ready for just yet.
Jones was able to successfully defend his title multiple times straight on through 2015, on April 28 he was stripped of his title by the UFC due to his involvement in a hit and run accident.
Granted an interim title during his suspension and allowed to compete for the top belt once again as soon as he cleared his six month probation, Jones was able to reclaim his title on April 23 of 2016 – but then had his second title stripped just a few months later due to a positive test for performance-enhancing drugs.
Jones appealed his suspension but it was not overturned, and had to wait on the sidelines until July 2017 when he climbed back into the ring for another shot at the UFC Light Heavyweight Championship title. This was another fight that Jones one in devastating fashion, though just two months later the title was stripped from him for a third time – again for popping positive for anabolic steroids.
After this third stripping of his title the state of California has decided to revoke his fighting license completely. He will not be able to reapply for a license until August 2018, but the USADA is not expected to have a ruling passed down about his eligibility by that – which means he won't be able to get his application for a new fighting license in until the summer of 2019.
Even though Jones hasn't been the ring and hasn't fought anyone for close to 18 months now, he remains in the news due to allegations by his former friend and college roommate Colby Covington claiming that he knows with 100% certainty that Jones uses anabolic steroids and has been a "juicer" ever since college at the very least.
Covington was on a satellite radio TV show in June 2018 when the hosts decided to ask him about his previous experiences with Jones, one of the most controversial athletes in UFC history. Covington opened up completely about how often Jones would use performance-enhancing drugs, going so far as to state that he saw Jones inject steroids directly into his body firsthand – and that Jones would often fly into "roid rage" with alarming frequency.
Jones took to social media took all Covington a liar, distancing himself from these new allegations. However, Covington seems to have evidence on his side. After all, Jones was banned from fighting in the UFC in the middle of 2017 for being caught red-handed with Oral Turinabol in his system during his last performance-enhancing drug test.
Jones went on to say that he hoped Covington was defeated at UFC 225, however Covington got the last laugh here as well as he devastated his opponent to claim the UFC Welterweight Championship by unanimous decision.
Source: Hiergesell, D. June 8, 2018. Jon Jones destroys 'disgusting' Colby Covington for recent drug remarks. Retrieved from: https://www.mmamania.com/2018/6/8/17443382/jon-jones-destroys-disgusting-colby-covington-for-recent-drug-remarks-mma