By Admin – Steroidal.com
Brock Lesnar has failed a second drugs test following his win over Mark Hunt at UFC 200.
The United States Anti-Doping Agency (USADA) has notified the UFC that Lesner has also failed an in-competition test on July 9. Although the banned substance has not been named, Steroidal.com understand this is for clomiphene (Clomid), the same substance Jon Jones has been suspended for recently.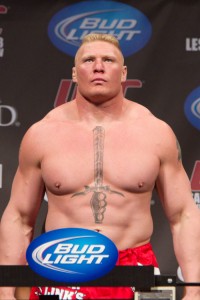 Lesnar has been tested twice and both times he has failed the USADA policy on banned substances leading to UFC 200.
The UFC has come under criticism because they gave Lesnar a one-month window to be clean, as opposed to every other UFC fighter having to remain clean from banned drugs and performance enhancers for four-months.
They also delayed having the sample analyzed. The WADA-accredited UCLA Olympic Analytical Laboratory did conveniently not complete the results of the June 28th anti-doping analysis until July 14.  If UFC and USADA had expedited the results, Lesnar would have been removed from UFC 200. This would of meant loss revenue for the UFC, following the collapse of Conor McGregor v. Nate Diaz II and Jon Jones removal for his drug violation from the main card.
UFC 200 was the first time Lesnar had fought in MMA since December 2011, so chances are he was using a PED or banned substances.
His fight with Mark Hunt went ahead earning the UFC an eight-figure sum and Lesnar picked up a $2.5m for the co-main event bout.
Under the partnership between the UFC and USADA, the Nevada State Athletic Commission (NSAC) withholds the right to punish Lesnar. Lesnar has not publicly stated his 'B' sample was also analyzed or whether it also failed the stringent USADA testing.
The UFC official statement said: "It is important to note that, under the UFC Anti-Doping Policy, there is a full fair legal review process that is afforded to all athletes before any sanctions are imposed. The Nevada State Athletic Commission also retains jurisdiction over this matter as the sample collection was performed at UFC 200 in Las Vegas."
Hunt was understandably furious that Lesnar had been using banned substances during his fight at UFC 200. Hunt took to social media to demand Lesnar's $2.5m purse, not happy with his reported $700,000 and battling a cheating fighter.
The UFC states that retired fighters must be clean for four-months prior to competition, but Lesnar got an exemption to only 4 weeks. This could of come down to the speed at that Lesnar was announced as the UFC scrambled to get the top UFC fighters at its flagship UFC 200 event. Or the fact the UFC knew Lesnar was using banned substances as part of a post cycle therapy (PCT) program following PED usage.
Source: http://www.espn.co.uk/mma/story/_/id/17108509/usada-informs-ufc-second-failed-brock-lesnar-drug-test