Professional baseball is a game that takes tradition very, very seriously.
America's pastime has more unwritten rules than it has written, and players of all eras have understood and appreciated the past of this great game and respect that even though much about modern baseball has changed throughout the years it is still fundamentally the same game created by Abner Doubleday oh so long ago.
This is why the performance-enhancing drugs (PEDs) scandal of the late 1990s and early 2000's really rocked baseball to its core.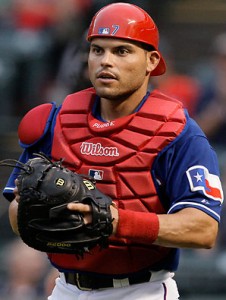 Sure, baseball was on its knees after the strike in 1994 and was really rejuvenated in 1998 when Mark McGuire, Sammy Sosa, and – for a little while there – Ken Griffey Junior went toe to toe in the hunt for breaking Roger Maris's home run record of 61 in a single year.
And yes, the "Era of Offense" really helped to bring a lot of people back into the fold and get excited about baseball once again, but once allegations of performance-enhancing drug use started to leak into the public (thanks to one of the biggest juicers of them all José Canseco) the entire era was tainted and most thought that nobody associated with PEDs whatever to the Hall.
Well, it looks like those winds are changing now that Ivan "Pudge" Rodriguez has been inducted into the Baseball Hall of fame.
Elected into Cooperstown by the members of the Baseball Writers Association of America, Pudge is considered to be the very first Hall of Famer to be elected from the steroid era as well as the very first Hall of Famer to be elected after allegations of performance-enhancing drug use followed him through his later years in his career.
Now, to be fair, Pudge didn't have the same kind of juiced up look that Mark McGuire and José Canseco did when they played. After all, there's a reason the guy was nicknamed "Pudge".
At the same time though, he put up the same kind of offense if numbers that a lot of other suspected juicers put up and was even named by José Canseco in his telltale 2005 book as someone that Canseco taught how to use and inject performance-enhancing drugs and steroids before it became really commonplace throughout the league.
Canseco took things even a little bit further than just alleging that he taught Pudge how to use steroids, however, when he went in front of Mike Wallace in a nationally televised interview and told him the same thing that he told Congress. Canseco confessed that he had not only talked to numerous players on the Texas Rangers ballclub about performance-enhancing drugs and how to use them, but also that he personally had injected steroids into Rafael Palmeiro, Juan Gonzalez, and Ivan Rodriguez – Pudge himself.
Pudge hasn't done himself any favors when it comes to steroid allegations, either.
Back in 2009, he was asked whether or not he had used steroids throughout his career and whether or not he would show up on the confidential Commissioners List along with 103 other player names. Instead of directly denying these allegations, he instead replied "Only God knows" and left it at that.
Baseball writers in general seem to be coming around on the whole idea of the steroid era anyway. Both Barry Bonds and Roger Clemens have seen their confirmation percentages jump over the last three years, and it's likely that both of them are going to make the Hall of Fame at some point in the future.
Maybe Pudge won't be alone then.