A fully qualified personal trainer and Canadian bodybuilder, Chris Muncaster, who is located in Sault Ste. Marie, has found a way to successfully avoid a prison sentence after he pleaded guilty to steroid trafficking, which was part of the Project O Tamper. The option for him to avoid a jail term cost him 2000 Canadian dollars as a fine and for him to Forfeit his Hummer H3.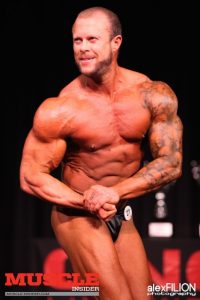 The project began after information was provided to the police force that he was known to be selling anabolic steroids at his private training Studio, where he was supplying anabolic steroids to his customers. The tip-off began a lengthy and in-depth investigation by the RCMP come up or as they are also known the Royal Canadian Mounted Police. They worked in tandem with the CBSA or the Canada Border Services Agency, along with the local police service.
Investigators from the RCMP performed ongoing surveillance on the fitness studio that Muncaster worked at, they also monitored him in other locations and began to build a case by collecting evidence that he was involved in trafficking steroids. During the investigation, they also discovered that he was dealing with recreational drugs, such as cocaine. The RCMP then used all of the evidence that they had collected during their investigation as a means of gaining a search warrant authorized by the courts. They executed the warrant during a raid at his private residence in January 2016 where they found approximately 3.6 kilos of cocaine, methamphetamines, anabolic steroids, and heroin.
He faced charges of important anabolic steroids, which are a controlled substance, 4 counts of possession, 6 counts of trafficking, production of anabolic steroids, and for owning property worth more than $5,000 that have been obtained via criminal means. All of the charges related to four different drugs transactions that took place between May and December 2015. In the end, he decided to plead guilty to one charge of trafficking anabolic steroids, which he decided to do three years after the initial charge in 2018. Given the fact that several of the drugs that he was involved with are deemed to be extremely dangerous, the lenient punishment may be viewed by many as not harsh enough.
His attorney managed to successfully negotiate an agreement between the prosecutors and the crown eventually came to the decision to drop all of the other criminal charges against him. Michael Varpio, the Superior Court Justice decided to accept the plea agreement and 36 year old Muncaster most likely found the wait for the resolution of his case to be to his advantage, especially as he managed to avoid going to prison. Muncaster had a well-established reputation throughout the local community of bodybuilders as a bodybuilder on a competitive level.
In 2008, Muncaster won the heavyweight division of the northern cup challenge, in 2009 he came third for the OPA Northern Ontario championships come on and in 2010 he was placed six as a middleweight for the Ontario provincial championships, which were held in London. Having had a well-renowned and respected career as a bodybuilder and personal trainer, the recent criminal activity will have no doubt tarred his reputation. Unfortunately, it is all too often an occurrence that happens within the bodybuilding community, especially for those who are seeking a more toned and defined physique. While the use of anabolic steroids is rife among bodybuilding communities, many athletes and bodybuilders are very much against it and feel that it's the tracks from the sport itself.
Source: https://www.sootoday.com/local-news/sault-man-caught-up-in-rcmp-steroid-investigation-says-rights-were-violated-547902