Yoel Romero UFC middleweight suing gold star for selling supplements containing Ibutamoren.
Mixed martial arts athlete Yoel Romero, who actively competes in The Ultimate Fight championships that's part of the middleweight division has gone up against a company that produces dietary supplements contaminated with ibutamoren, which led to him receiving a failed drug test and a suspension of six months in 2016. In January 2018 he filed a lawsuit against the company known as Gold Star Performance Products, the lawsuit was filed in New Jersey Superior Court. It accuses Gold Star Performance Products of negligently and knowingly manufacturing and distribution of supplements that contained a prohibited substance, which is known to be a growth factor hormone.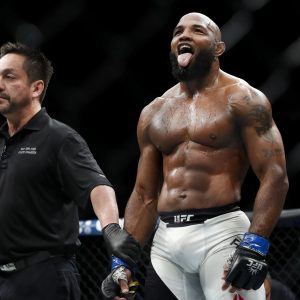 The substance in question is GHRP which is a growth hormone releasing peptide and a drug that is currently under investigation which is known as ibutamoren. This peptide mimics growling and leads to an increase of the endogenous output of growth hormones by actively stimulating the receptors located in the pituitary. Gold star performance products are not the first company to be accused of adding illegal substances and compounds into their dietary supplements. Many other manufacturers have been found guilty of this practice as there is a market for contaminated dietary supplements that will give athletes an edge over their competitors.
The USADA informed Romero that he had a positive result for ibutamoren in his system. The sample was collected while Romero was out of competition during December 2015. He went on to clarify that he had used Goldstars ShedRx and that it was because of using the supplement that he tested positive for the banned substance. The USADA went on to purchase a container of ShedRx anonymously and performed several tests on the ingredients that it contained. The results showed that each capsule contains roughly 5 micrograms of the active peptide. Ibutamoren was not listed on the ingredients of the container or any other packaging, therefore the product was clearly contaminated, be it knowingly or unknowingly.
Currently, Romero is now looking for unspecified damages that cover harm and disrespect you to his reputation while preventing him from having a shot at the UFC middleweight title fight. While he got several chances at the UFC middleweight title fight, he lost his 2017 Fight 2, Robert Whittaker. Although he won his fight against Luke Rockhold in February 2018, he was dismissed from claiming his title due to missing weight. However, this was not Romero's fault as he was asked to stand in as a replacement at the last minute for Robert Whittaker, who was injured. He would have claimed the title for the middleweight UFC championships but he did not have enough time to reduce his weight to 185 lb. At the time, he weighed in at just under 188 lb. He has now been scheduled to have the opportunity for a third time when he is rematched with Whitaker in June 2018.
While it is easy to assume that any athlete will know whether their dietary supplement contains a contaminated product, this is usually not true. It can be a stressful and unfair time for the athlete, especially if they were unaware that the substance they were taking was not included in their dietary supplement. Unfortunately, many companies do not see the career of the athlete as being important and only care about making money. This has undoubtedly led to the end of many careers throughout the sporting world and is something that is now becoming more closely monitored. The outcome of the legal challenge will be updated as and when information becomes available closer to the court date.
Source: http://mmajunkie.com/2018/01/report-yoel-romero-sues-maker-of-tainted-supplement-that-led-to-2016-usada-suspension