The shooting guard off the Washington Wizards, Jodie Meeks has produced a positive test result for 2 illegal Peds (performance enhancing drugs) which are a direct violation of the NBA and the NBPA's anti-drug program. The two prohibited performance enhancing drugs were said to be the growth hormone releasing peptide 2 (GHRP-2) and Ipamorelin. Both of these substances are prohibited as part of the National Basketball Players Association and the National Basketball Association's anti-drug programs. There was an announcement from the NBA that Jodie Meeks would face a suspension for a period of 25 games and would not receive pay during his punishment. This was made clear during an official press release that it published via its website in April 2018. The positive test result was discovered as part of a sample that was collected during a game versus the Houston Rockets in April 2018. Routine testing such as this is often performed to ensure that all players are playing naturally and not gaining any unfair advantages against opposing teammates who undertake their training in a natural way.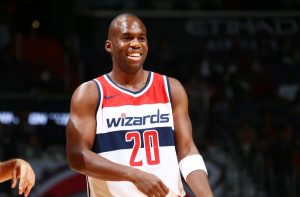 To date, Jodie Meeks has refused to answer any inquiries from reporters about the failed tests, however, officials of the Wizards and Meeks have both hinted at Meeks intention to appeal his suspension. GHRP-2 is a pure growth hormone secretagogue that works by inhibiting somatostatin, which prevents the correct release of growth hormone. It also works by promoting the body's ability to secrete human growth hormone (HGH), leading to an increase in strength and size. Ipamorelin is a peptide that is seen as being extremely versatile and is most often used as part of a stack to promote excessive muscle gain and a loss of fat.
The president of basketball operations for the Washington Wizards come up Ernie Grunfeld, had a conversation with Jodie Meeks and has made it clear that he intends on appealing the final decision. He went on to say that he had spoken with Meeks, who has informed them that his agent and him will both be appealing the outcome, he followed on by saying that they will allow the appeal to go ahead and play out and there will be no further comments on the situation as Focus needs to be kept on the playoffs. Jodie Meeks Father spoke with the Washington Post and told them that his son was both stunned and shocked to discover that he had produced a positive test result for banned performance enhancing drugs.
His father stated that his son is as surprised as everybody else and that he said to his father that he was unsure about what exactly was happening. His suspension will start when the Wizards have their first game on the 14th of April 2018 against the Toronto Raptors. The suspension for a period of 25 games means that in effect, he will miss out on the playoffs this year as well as the first few games of the next season. He was the 41st pick of the NBA 2009 draft, where the Milwaukee Bucks drafted him. Throughout his career he has played for the Los Angeles Lakers, Orlando Magic, the Philadelphia 76ers, and the Detroit Pistons period on the 12th of July 2017 Meeks signed a 7 million dollar two-year deal with the Wizards of which he will lose out on roughly $1,000,000 because of the suspension. This is a large portion of money to Forfeit purely for attempting to gain an advantage over other players by using performance-enhancing drugs that contravene the outlines put in place by the official organizations governing the sport.
Source: https://www.si.com/nba/2018/04/13/report-jodie-meeks-suspension-drug-violation