Chael Sonnen is an MMA fighter and he believes that Jon Jones has been using steroids the whole time that he's been competing in MMA and UFC competitions. In Sonnen's opinion, Jones should admit to being a longtime steroid user. Sonnen is a light heavyweight MMA athlete who fights for Bellator MMA, which is a promotional company based in Santa Monica, California. Sonnen has his own history of doping, but he's been more open about his doping activites, since getting busted for using a variety of banned substances.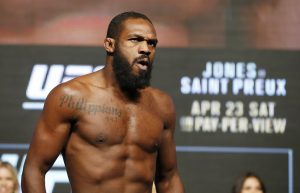 At present, Jon Jones is quite likely to lose his existing title. He recently tested positive for a steroid called Turinabol (the oral version, rather than the injectable). Jones also faces a four-year suspension, provided his violation for doping stands.
Sonnen seems to be enjoying the upper hand right now. He's been in a feud with Jones for quite a while. Sonnen asked Jones to fight in UFC 159, which was held in April of 2013, with a mind to beating Jones and winning the light heavyweight title. Jones won the fight by getting a TKO during round one. Jones kept his title and also critiqued Sonnen for using steroids. So, it's possible that Sonnen is returning the favor, by publicly criticizing Jones, just as Jones once criticized him!
Prior to the UFC 159 battle, Jones accused Sonnen of being a longtime steroid user. Jones remarled that Sonnen's positive test result for steroids proved that Sonnen didn't have the attitude and heart of a champion. This damning criticism seems more than a bit hypocritical now!
Jones definitely had a lot to say about Sonnen during their years-long feud. By letting the public know that he felt Sonnen lacked "a championship soul", he threw down the gauntlet. Jones made this remark to a Fuel TV commentator named Dominick Cruz, way back in 2013. Now, the tables have certainly turned!
Four years after Jones' remarks, Sonnen is accusing Jones of the very same thing. He feels that Jones has been using banned performance enhancers throughout his career.
Sonnen has conceded that he's in no position to judge steroid usage too harshly. He's used steroids, too. Sonnen admits to being a longtime steroid user and he thinks that Jones should do the same.
In 2014, during the summer, Sonnen was busted for utilizing an array of banned substances. He tested positive for Arimidex, Clomid, HCG, EPO and HGH. These weren't steroids, according to the rules. However, Sonnen was already considered to be juicing due to his use of TRT (testosterone replacement therapy) in the past. Sonnen has owned up to using these banned substances over the course of his fighting career.
Sonnen remembers when he started using these substances and he feels that being honest about what he's done is the best strategy, and encourages Jon Jones to own up to things.
Jones is blaming his most recent positive test result on steroids which are contaminated. Also, he's saying that he's never knowingly utilized anabolic steroids.