Guido Cannetti is a mixed martial arts (MMA) fighter from Argentina and he recently tested positive for several PEDs. According to the USADA, dietary supplements may be to blame.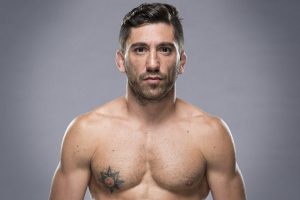 Nicknamed, "El Ninja", Guido is a bantamweight MMA fighter who trains at Buenos Aires' Academia de Ensenanza de Artes Marciales GOA. His test results showed the presence of four PEDs and this resulted in a ten-month ban from competition. The ban was set by the USADA (United States Anti-Doping Agency). According to the USADA, his steroid usage was accidental. Cannetti took dietary supplements which may have been contaminated. Initially, the test results was serious enough to result in a two-year ban. However, a USADA investigation showed that Cannetti may not have ingested the steroids/PEDs on purpose.
The positive test result showed the presence of SARM, Winstrol, MK-2866 and two diuretics (chlorothiazide and hydrochlorothiazide). After the positive test result, Cannetti said that he never knowingly used substances that were banned. He stated that a dietary supplement which was contaminated may have led to the positive steroid test result. Lots of fighters say this when they get busted for using PEDs and steroids. Sometimes, it's true and this looks like one of those instances.
Cannetti Used a South African Dietary Supplement
The test happened in October of 2016. When the test was going on, Guido listed every dietary supplement that he'd been taking. There is room on a doping control form from UFC-USADA for this type of information. One of the supplements on the list was called Cyborg 10000 and it's made by a firm from South Africa (Body Advance). The supplement is marketed as a micronized creatine supplement.
Is Cyborg 10000 Contaminated With Steroids
To investigate Cyborg 10000, the USADA got sealed and open containers of the dietary supplement. It also checked the label on the product and found that no banned substances were listed. On the label, B-vitamins, glutamine and micronized creatine were listed as ingredients. After testing a sealed container of the supplement, USADA found three banned substances in the formula, which were Ostarine, Hydrochlorothiazide and Stanozolol. Also, they found other, non-banned ingredients in the formula, which weren't listed on the label.
Now, the USADA has put Cyborg 10000 from Body Advance on a list of dietary supplements which are "high risk" for athletes.
After the USADA tested Cyborg 10000, Cannetti's ban was set for two months. The USADA believes that Guido may have used the banned PEDs and steroids unintentionally. Before the positive drug test result, Guide was slated to fight Marco Beltran at UFC Latin America 3, during November of 2016. Cannetti was taken off of the fight card because of the test result. He was suspended provisionally on the 28th of October, 2016.
It's been twenty-four months since Cannetti participated in an Ultimate Fighting match. In his last fight, he got a unanimous decision over opponent, Hugo Viana, during the UFC 190 bout, which was held on the 1st of August, 2015. Now, Guide will need to wait until the 28th of August, 2018, before being able to fight again.