Gian Villante fights in the UFC, under the weight class, light heavyweight. He has been exonerated from a suspected doping violation due to the Retroactive Therapeutic Use Exemption (RTUE). This exemption comes from the governing body known as the United States Anti-doping Agency (USADA).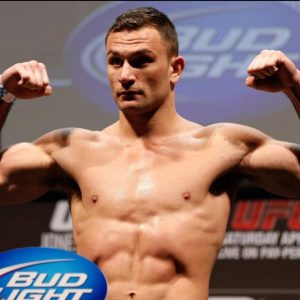 Villante was quite upfront about his usage of an inhaler, which contained Breo Ellipta, while being tested for banned substances in the UFC off-season. The test was administered on the eighteenth of January, 2017. He tested positive during the procedure and his positive result was for Vilanterol. Unfortunately, this substance is not permitted. It's considered one of many Beta-2 Agonists, via the UFC's own anti-doping regulations. The UFC uses anti-doping policies from the World Anti-doping Agency (WADA) in order to set its own banned substance regulations.
Beta-2 Agonists are usually utilized in order to help people with asthma. Now and then, they are used to enhance performance, as they have ergogenic properties.
After the positive test results, officials from USADA let Villante know that he'd likely get a doping violation for taking the medication, as he didn't, at that time, have an exemption for therapeutic use. At this point, the UFC fighter brought forth paperwork which showed that his doctor prescribed the drug for two weeks, in inhaler format, in order to help him handle health issues related to asthma and poor airflow.
Officials reviewed the paperwork and then made the determination that the UFC fighter had every right to take the medication. The document showed that he does have an acute condition which was formally diagnosed and that the medication prescribed was a logical and typical choice. Then, the UFC governing body issued an exemption.
Exemptions are Only Fair
Lately, there have been more exemptions from governing bodies. Naturally, there needs to be authentic supporting documentation before these exemptions are processed and announced. Sometimes, athletes are simple trying to take care of themselves and deal with health issues. They take medication that they get from their doctors and they just don't realize that they are going to fail tests for banned substances as a result.
We are all human and make mistakes. Recently, female tennis player, Maria Sharapova, had a similar excuse for testing positive. However, her punishment held, so she was clearly not able to prove that she deserved a therapeutic exemption.
The UFC fighter who was charged was simply trying to return to competition condition. He needed medication in order to breathe properly. After reviewing his documentation, the governing body decided that he was not getting any competitive advantage from using the inhaler. Instead, he was trying to improve his health, so that he could perform at the same standard as usual.
Athletes obviously need to be extremely careful about what they put into their bodies when they are competing at higher levels. Drug tests these days are so sensitive and it's possible to fail them, even when athletes don't realize that they've broken the rules.
UFC Was Fair With Villante
It's nice to know that the higher-ups at UFC will listen when an athlete protests a banned substance test result. In this case, the governing body was fair and the exemption was processed. Now, Villante may restore his good name. Unfortunately, positive test results for banned substances create a lot of bad publicity for those who fail the drug tests. Hopefully, media exposure of the overturned results and subsequent exemption will help Villante to clear his name and re-establish his good reputation as a law-abiding UFC fighter. It's not fair that he should be thought of in any other way.