Angel Heredia used to deal steroids and he's often called by the nickname, "Memo". He is notorious because he offered PEDs (performance-enhancing drugs) to track and field athletes at the Olympic level and also supplied Olympic coaches with these banned substances. Angel was a part of the BALCO steroid debacle. Now, Jon Jones is paying him to function as a legal assistant and doping expert.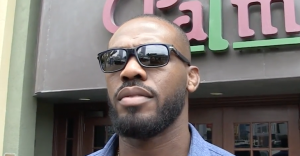 Jones is a light-heavyweight champion in UFC. He was recently busted for using banned performance-enhancers. The case against Jones is heating up and Heredia is now questioning the credibility of the controls for anti-doping which are in place at USADA. USADA is the United Stated Anti-Doping Agency.
Jones was busted because he had metabolites of Oral Turnibol (an anabolic steroid) in his system before his battle with Daniel Cormier. The fight in question happened in July of 2017, at UFC 214. According to Angel Heredia, something strange is happening, as this particular oral steroid is renowned for having a cluster of metabolites (six in all). Jones had only a single metabolite of Oral Turinabol in his system.
According to Angel Heredio, Jones doesn't have enough metabolites of this anabolic steroid in his system, so the test results seem a bit fishy. Heredio feels that Jones should have tested positive for more metabolites. The one that was in Jones' system hangs around in the body for 7 weeks or so. In Heredio's view, something isn't right about the whole doping scandal and he hopes for answers from USADA.
Heredio also remarked that Jones underwent a range of tests before the UFC 214 fight and had no problem passing all of those tests, until this positive test result. Angel said that Jones was tested aggressively in the past, via flag testing and red flag testing. All of the available tests were used in order to establish whether or not Jones was clean in the past and he passed these tests with flying colors.
Heredio shared his opinions while appearing as a guest on a Submission Radio broadcast. Heredio remarked that USADA would have performed CR testing for lab-created testosterone and that the newest form of test for Turinabol would also have been used. As well, he stated that the testers would bring Jones' "bio-passport" into the testing protocol. He thinks it's odd that Jones would test positive during the final seventeen or eighteen days. It doesn't make much sense to him.
Angel clearly has issues with the testing protocol of USADA. He's not alone. The CSAC (California State Athletic Commission) has also weighed in, via its Executive Director, who is named Andy Foster. Foster thinks that the test results don't really add up, either!
Foster thinks that the situation makes little sense. He feels that athletes who do steroid panels will get positive results for Oral Turinabol each time that they are tested. In Foster's opinion, the fact that the steroid didn't appear in Jones' tests on July 6th and 7th indicate that Jones wasn't using the steroid at that point in time.
Jones is Putting Together His Defense
Adding Angel to his team tends to underscore the veracity of a rumor that the Jones' team is going to utilize a "contaminated supplement" defense in order to explain why the metabolite of Oral Turinabol was found in the A sample before the UFC fight. Jones' agent, Malki Kawa, has said that Jones wasn't using PEDs. Kawa stated that contamination of a supplement may be the reason why Jones tested positive. Another possibility is sabotage.
Angel Heredia Has a Sketchy Reputation
Heredia isn't something that everyone in the combat sports industry respects. Victor Conte, who used to be behind BALCO, definitely doesn't trust Angel. Conte went to prison for several months because he played a role in the infamous BALCO steroid scandal. Conte has criticized Angel many times. He even called him a snitch because Heredia cooperated with the feds during the BALCO scandal. Conte views Angel as a puppet of Jeff Novitsky, who is now the Vice President of Athlete Health & Performance at UFC. Novitzky used to be the BALCO investigator. Angel got off easy in the BALCO situation through his cooperation with authorities.
In Conte's opinion, Heredia doesn't accept responsibility for what he did, while Conte himself did take responsibility.
It remains to be seen whether or not adding Heredia to the defense team will be positive or negative.