Juvenile Detention Officers in America are expected to follow the letter of the law. One of them, Jeffrey Gentile of Connecticut, was sentenced to probation after being busted for exchanging Adderall for anabolic steroids. He received three years probation, plus one hundred and fifty hours of community service, because he was involved in a ring which distributed steroids. Gentile no longer works as a Juvenile Detention Officer. The ringleader for this illegal operation was former police sergeant, Steven Santucci, who used to work for the Newtown police force.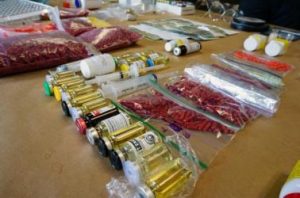 Gentile was part of an indictment which includes a group of seven co-conspirators. The indictment happened during May of 2015. Santucci was the one who set up the UGL (underground lab) which used raw-type steroid powder to make oral steroid pills, as well as solutions for injection. The products were marketed under three different labels, which were Prostock, Crox Gear and V Labs.
Initially, Gentile received a charge of conspiracy to distribute anabolic steroids, as well as conspiracy to possess with the intent to distribute steroids. Also, the charge of conspiracy to distribute Oxycodone (and to possess with the intention of distributing Oxycodone) was laid.
Jeffrey Gentile entered a guilty plea to a single count of utilizing a phone to arrange distribution of the drug, Adderall, during October of 2016.
Gentile's Role Was Fairly Minor
The prosecutors in this case felt that the role played by Gentile was quite minor. Gentile arranged to purchase a personal-sized amount of anabolics from a main distributor of Santucci's, who is named Alex Kenyhercz. Jeffrey offered to trade his stash of Adderall, Roxicodone and Vicodin, as a part payment for a steroid cycle which included trenbolone enanthate, trenbolone acetate, Winstrol and Clomid.
When the deal was done, Adderall was the only drug traded for the steroid cycle.
Since his role was limited to trading drugs for steroids which were intended for personal usage, the case's prosecutors didn't mind recommending a sentence which was based on probation (or time served). The judge (Robert N. Chatigny) decided to sentence the plaintiff to probation. While Gentile didn't need to spend time in prison, he was let go from his position as a detention worker. He used to work at the Bridgeport Juvenile Detention Facility.
Prosecutors Criticized Anabolic Steroids
Prosecutors used the case as a platform to share their negative views about anabolic steroids. They felt that the plaintiff utilized steroids which fueled the rage that led to a domestic abuse allegation. The relationship in question ended and it had been a long-term relationship. Jeffrey then began to date a stripper from Brazil and the prosecutors characterized this new relationship as destructive.
In addition, the prosecutors said that Gentile's "roid rage" was uncontrollable. In the view of prosecutors, Gentile's life has become a downward spiral due to his usage of steroids. The banned substances have made him a more violent person. Surveillance was used in the case and it showed that Gentile frequently flew into fits of anger which were very dangerous to himself and others.