UFC fighter, Jon Jones, is getting plenty of press these days, because he failed a drug test before UFC 214. The sample tested before the fight was the "A" sample, which showed a metabolite of the anabolic steroid, Turinabol. Now, the second sample (the "B" sample) has been tested and it's shown the same positive result as the first. Due to this, Jones has now been stripped of the UFC light heavyweight world title making Danial Cormier the champion for th second time.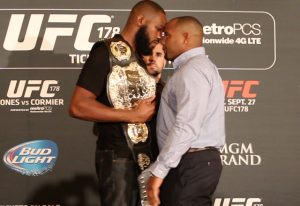 The USADA (United States Anti-Doping Agency) performed the test on Jon Jones on the 28th of July, 2017, in Anaheim, California. It's standard practice to create two samples during testing. One is tested and one is stored. When problems arise (i.e.positive test results), the second sample will be tested. It will back up the first test result. If it doesn't, there's a problem.
According to a USADA representative, the "B" sample shows the same findings as the first sample. However, the representative noted that Jones deserves due process before final conclusions about the positive test result are made.
Jones Denies Any Wrongdoing
Jon Jones won his match against opponent, Daniel Cormier, during UFC 214. When Jones found out about the positive test result, he said that he hadn't knowingly taken a banned substance. His team is looking into the matter and trying to figure out how the steroid got into his system. One theory is that a tainted supplement is the reason for the positive test result.
Athletes frequently ask for tests of "B" samples when they get busted for banned substances via their "A" samples. It's uncommon for a "B" sample to show a different test result than the first "A" sample.
The fight result has now been altered to show "no contest". The CSAC (California State Athletic Commission) hasn't changed the fight result yet. Making Cormier the UFC light heavyweight champion again after Jones's was stripped previously for using banned substances.
Jones Failed a Drug Test In the Past
This is failed test result number two for Jon Jones. He was pulled out of a championship by UFC during July of 2016, after testing positive for a range of agents which were anti-estrogenic. Jones let USADA know that these substances were derived from a sexual enhancement formula which was contaminated. Despite this excuse, he received a one-year suspension, due to his own negligence.
According to the rules of the UFC anti-doping system, Jones may be suspended for up to four years, because it's not his first offense. He may face sanctions from a couple of governing bodies, which are USADA and CSAC. There is the possibility that the United States Anti-Doping Agency will offer the same ruling as CSAC. Jones has the right to appeal to both governing bodies.
Jones Passed Other Tests Around the Same Time
Before he failed the pre-fight test for UFC 214, Jones passed a range of other "out of competition" tests, in the time period leading up to his UFC 214 win. The urine test that he failed was given by the USADA on the 28th of July, 2017, a single day before the fight. Jones had a blood test the day after and passed it. This doesn't really positively impact his defense, though, because blood tests do not screen for Turinabol.
Jones denied using any PEDs before his fight with archrival, Daniel Cormier. He felt that Cormier's attempts to paint him as a steroid user were insulting, in light of his accomplishments in UFC and MMA.
Jones has a reputation as the strongest fighter in history. However, he's had a turbulent three years. UFC took away his title during 2015, because of an arrest for a hit and run. The hit and run happened in Albuquerque, New Mexico. He's the only person who's ever lost a UFC title due to a disciplinary reason.