Anyone that has paid attention to the international cycling community, both pre-and post Lance Armstrong, undoubtably has read all of the trouble that this sport has had in particular with performance-enhancing drugs (PEDs).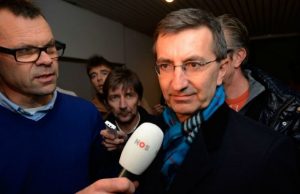 One of the most intensively tested sports on the planet, apparently millions and millions of dollars are spent each year on providing athletes that cycle with the best performance-enhancing drugs and methods to get by protocols to detect these PED – even going so far as to create "phony" biological passports that are supposed to make performance-enhancing drug cheating impossible.
Team Sky has just recently been embarrassed after their employment of Geert Leinders led to stories about widespread doping practices, but now they are in even hotter water after one of the team doctors has come clean and confessed to providing incredibly power performance-enhancing drugs to all of the cyclists on Team Sky – one of the most successful Dutch cycling teams in the sports history – between 2010 in 2012.
After the lifetime ban of Geert Leinders for life in 2015, the Team Sky medical organization went through a tremendous amount of upheaval and overhaul. A number of doctors were considered to be brought on board, but the team eventually went back to a Mr. Thomas Dekker – up until he began to cooperate with investigators and outlined to them just how widespread doping was on the Dutch cycling team.
A previous member of the staff between 2010 and 2012, Dekker worked hand-in-hand with members of the USADA, the AAA, and the International Cycling Union to provide in-depth information about all of the performance-enhancing drug abuse, administration of banned substances, and medical abuse for conditions that simply didn't exist – all designed to make the team more competitive.
All of the inside information provided by this doctor was corroborated by the USADA investigation that resulted in Geert Leinders being banned completely from the sport forever, which leads a lot of credence to the information being provided. It'll be interesting to see how Team Sky is impacted after this information is corroborated or disputed, and it's unknown just how many more scandals involving performance-enhancing drugs the sport of cycling can handle before the money really starts to dissipate and disappear.
It's turning out that the Lance Armstrong scam was only the tip of the iceberg and it's unknowable as of yet how far these kinds of performance-enhancing drug abuses really go.