Even though every major sporting organization around the world says publicly that they want to absolutely nothing whatsoever to do with the culture of performance-enhancing drugs, the cheating that these drugs bring to the table, and the taint that a performance-enhancing drug culture brings to their sport, the truth of the matter is these athletes – and their coaches, the teams, and the organizations that support them – are always willing to do anything they can to compete and win.
The recent release of a previously confidential 2016 USADA report shows just how far some organizations are willing to go to not only support performance-enhancing drug violations, but also to protect the athletes that are using these drugs, to cover up the positive tests, and to do everything they can to obscure results and cover for these individuals even when they are discovered to be cheating.
World-famous long-distance running coach Alberto Salazar has been found to have likely violated significant anti-doping rules and regulations according to a confidential report published by the USADA for internal use only.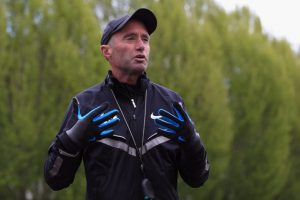 Reporters from the New York Times were able to gain access to this report, and the 269 page program details and extensive culture of coercion, secrecy, and even potential medical malpractice in the "Oregon Project" designed to promote long-distance running and support long-distance running athletes in the United States.
Nike has been dragged into the PED world
According to this USADA report, Nike – the folks behind the Oregon Project – have also been dragged directly into the world of PED culture, and it's suggested that Nike VP Thomas Clarke has had a significant hand in Alberto Salazar bringing PDAs into the Oregon Project and making them a main part of the fabric of the program.
This comes as a surprise to many, especially since Nike is such a major sports brand all over the world and likely do not want to be tainted by these kinds of scandals for a variety of different reasons.
At the same time, the Nike Oregon Project has always been a forward thinking and aggressive kind of program designed to push the boundaries of long-distance running. This program uses science, uses intense training, and a unique approach to workouts and diet that have resulted in many of the American athletes training here achieving personal bests and world records in long-distance running – but now all of these results are at least a little bit suspect because of this report.
Nike looks to distance themselves from the scandal
Though Nike has stood in lockstep with the vice president responsible for creating the Oregon Project and the legendary long-distance coach Alberto Salazar, the truth of the matter is they have working overtime to distance themselves as much as possible from this scandal – even going so far as to potentially influence media outlets that are looking to report on it, downplaying the scandal as much as possible while omitting completely the fact that Nike was even involved.
The USADA has also gone to great lengths to shut down any talk of this report, especially since the report itself was illegally stolen and leaked to journalists at the New York Times. This is the kind of report that was ever designed for outside consumption, it wasn't ever intended to be shared with others, and was always meant to be kept internally so as to decide how to best move forward with Alberto Salazar and the Oregon Project without any outside interference.
It will definitely be interesting to see how things unfold in the days, weeks, and months ahead, as well as how Nike is impacted (or not) because of this potential scandal.