After a recent decision that proved to be devastating for the career of the arguably greatest of all time Mixed Martial Artist Jon Jones, it appears that his permanent ban from the UFC octagon may not be as long-lived as previously thought. With a new drug czar in charge of the sporting organization, UFC Vice President of Health and Performance Jeff Novitzky says that Jon Jones may actually have some hope in terms of fighting in the UFC in the future. For those that don't know, Novitzky is one of the most intimidating men in all of sports as he has served as a special agent for both the IRS and then served as an agent for the FDA, specifically focused on performance enhancing or steroid-related investigations. Because of that, it meant that he would be the primary agent in facilitating the takedown of any drug-related corruption in the UFC.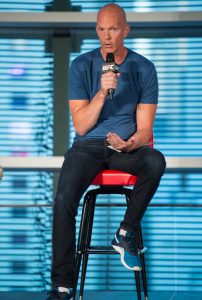 Essentially, Novitzky has said, most recently on Joe Rogan's podcast on January 3rd, 2018, that the second time offense for Jones shouldn't be that egregious given that his first offense was truly accidental in his opinion. Jones first got in trouble when using a tainted Cialis sample, but what Novitzky doesn't mention on the podcast is the fact that Jon Jones was buying that Cialis from All-American Peptides, a UGL with a reputation for selling all sorts of performance enhancers. Basically, it implies that Novitzky is giving way too much benefit of the doubt for Jones when it shouldn't necessarily be there in the first place.
Because the first offense is so silly in Novitzky's opinion, he believes that Jones deserves the benefit of the doubt. However, in the second instance where Jones got popped, it was a much different circumstance. In this instance, Jones was taking a substance called Turinabol, also known as T-bol. T-bol is famous for its tremendous power advantages and the fact that it does not stay in the system for terribly long, enabling cheaters like Jones to easily bypass any testing once the half-life expires
However, it appears that Novitzky is now consistently adopting an apologist stance for Jones. Aside from Joe Rogan's most recent podcast appearance, he has also been on UFC pre-fight announcer Bruce Buffer's podcast, "It's Time." Since this is essentially straight from the mouth of the UFC itself, this is not a particular insightful or unbiased avenue to hear Novitzky talk about Jone Jones being innocent or not, but it's interesting to hear because it portends that UFC might intend to give Jones another chance, given that Novtizky is essentially in charge of most of the doping violations related to the UFC itself.
His reasoning is that according to the choice of T-bol by Jones, it wouldn't be intentional since there are now tests that can see the metabolites left from T-bol for a long time period. But again, this is ab it of faulty logic on Novitzky's end because it just does whatever possible to give Jones the benefit of the doubt and said that he believes it to be "non-purposeful ingestion."
Novitzky as the UFC's drug czar brings in a history of taking down the likes of Barry Bonds, Lance Armstrong, Marion Jones, and other legendary athletes. He has been considered one of the best at catching doping violators, but with these recent decisions, it shows that perhaps Novtizky no longer has any interest in actually cleaning up the sport. But rather, it seems clear that Novitzky is just an attempt at UFC to window dress and feign as if they truly care about getting rid of drugs in the sport.
Given that the UFC allowed a drugged-up Brock Lesnar to fight from the money alone, it wouldn't be the first time the sport sacrificed its integrity in the name of the almighty dollar, and it doesn't seem to be the last either.
Source: https://www.express.co.uk/sport/ufc/899920/Jon-Jones-Failed-Drug-Test-Unintentional-Use-Jeff-Novitzky-UFC-News