By Admin – Steroidal.com
Tatyana Lysenko has been stripped of her 2012 London Olympic gold medal following performance enhancing drug use.
The latest Russian athlete to be sanctioned following the 2012 London Olympics is hammer thrower Tatyana Lysenko. She has been caught using anabolic steroids after doping samples were retested as technology has advanced and Russia's statewide doping abuse has come to light.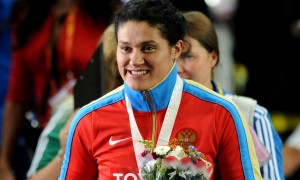 The International Olympic Committee (IOC) has demanded the safe return of her gold medal, after she tested positive for the oral anabolic steroid – Turinabol. Oral Tbol is a testosterone derived steroid and structurally close to Dianabol, but instead doesn't aromatase and raise estrogen in users.
Anita Wlodarczyk of Poland, which finished second at the 2012 Olympics, will now be awarded the gold medal. Wlodarczyk recently won gold at the 2015 Rio Olympics for the same event.
Lysenko retired in 2014 and did not compete in Rio. She will now end her career without any Olympic medals.
The International Association of Athletics Federations (IAAF), which governs the IOC, has been requested to punish Lysenko and modify the 2012 Olympic games results.
This is not the first offence for Lysenko, who was suspended from 2007-2009 for using performance-enhancing drugs (PEDs) previously. As this is now a second offence, Lysenko now faces a lifetime ban.
Lysenko won the world championships in 2011 and 2013 and now questions have been raised about how clean she really was. New doping tests can now detect if anabolic steroids have been used in the weeks or months leading to competition, not days.
As new methods become available to test stored samples, more athletes have fallen foul and been punished by the IOC and IAAF. Doping samples are stored for 10 years and retested when doping detection methods become more advanced with time.
Of the 2008 Beijing Olympics and 2012 London Games, 98 athletes have tested positive for banned PEDs and regulated substances.
At her disciplinary hearing in July 2016, Lysenko offered no explanation why a known PED was detected in her blood. In fact, she did not even attend the meeting.
She didn't attend the opening of her frozen 'B' sample and its initial testing, something athletes are encouraged to do to avoid claims of contamination. Her excuse at the time was she: "had always been training conscientiously and did not understand why the reanalysis had shown positive results."
Source: http://www.espn.co.uk/olympics/story/_/id/17770501/russian-hammer-thrower-tatyana-lysenko-stripped-2012-olympic-gold-medal-doping