Date: November 29, 2017
Published By: Adam Arrowsmith
The future career of sporting legend, Anderson Silva currently lies in a state of uncertainty after he tested positive for a yet to be disclosed substance. The UFC announced that Silva failed an off-season drug test and was removed from his Nov 25th fight against Kelvin Gastelum in Shanghai. However, the fight continued with Silvas replacement, Middleweight champion Micheal Bisping stepping up to the challenge.
This wasn't the first time that Silva has been caught out on doping offences as in 2015 during his headline bout with Nick Diaz, he was found to have banned substances in his body. Unfortunately, this led to his winning bout against Diaz being classed as null and void and he was given a fine in the region of $380,000. He was also suspended from participating in any bouts for 12 months.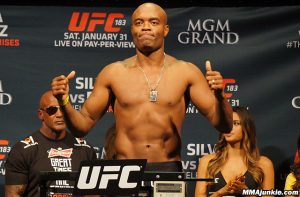 Bisping had been suspended on medical grounds for 30 days after his loss to St-Pierre in Maddison Garden. However, with just 21 days removed from that, Bisping would fight against his opponent in China. The fight in Bejing was self-regulated by the UFC and Bisping was given the all clear by an allocated doctor allowing him to bypass the 30-day suspension.
If found guilty of the doping offences, it would be a sad way to end Silvas glittering career. While anabolic steroids were found to be in Silvas system in 2015, the actual substance which he is alleged to have been taking is still under wraps. The 2015 discovery of anabolic steroids in his system resulted in Silva making up a rather unbelievable tall about the tablets he had been taking. He stated that he had been given an unmarked container filled with little blue pills and believed them to be a sexual enhancement drug. The drugs supposedly originated from Thailand and were given to Silva as a gift.
From what he stated as being a sexual enhancement drug, the results turned out to be drostanolone and methyltestosterone, two rather potent anabolic steroid compounds. The latter is renowned for its strength and muscle building properties and is able to build solid, strong, and lean muscle in a very short space of time.
The UFC will continue to investigate the results and will allow Silva a chance to defend himself and prove his innocence. For the time being, he has been placed on suspension yet again and only the outcome of the findings will reveal whether his career is over or not. Unfortunately, in the athletic and sporting world, the use of banned substances (anabolic steroids) is commonplace and can give an athlete an unfair disadvantage over their opponent. The regular testing of sporting athletes helps ensure that any fights between 2 opponents are fair, and this time Silva drew the short straw. It would be easy to speculate about the type of banned substances he is accused of using, so until the results are released then no one will really know.
Silva was considered as one of the best MMA fighters in the history of the sport and had held onto the middleweight title from the UFC from 2006 until his 2013 loss to Chris Weidman. During that time he had defended his title a whopping 10 times, and if this latest round of doping allegations proves to be true as was in 2015, then it will tarnish his career and cast doubt as to whether he had been doping throughout his career. Luckily, Bisping was ready to save the day and the fight went on as planned. Further information regarding the outcome of Silvas drug test result will be released and updated as and when the information becomes available.
Source: https://www.mmafighting.com/2017/11/10/16635354/anderson-silva-fails-usada-drug-test-out-of-ufc-shanghai-main-event