Texas takes football very, very seriously – maybe more seriously than any other state in the US, and that's really saying something for a country that is so football crazy.
Not only do Texans love the professional game, but they go crazy for college football, and there's a reason why the TV show and movie Friday Night Lights were so popular. High school football (junior high school football) is almost as popular as nationally televised games, with high school football stadiums in Texas offering capacities that get close to 50,000 people more pretty regularly.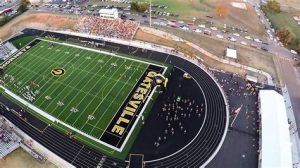 And while this dedication to the great sport of football has become a critical part of Texas culture, there is certainly a dark side to this passion (some would say borderline obsession) – as is evidenced with the case of Gatesville High School coach Aaron Mueller.
According to information relating to the grand jury indictment passed down in November 2017, Mueller had injected at least six different students with steroids – at his home – while coaching the Gatesville High School as a football team.
Mueller had been indicted by a grand jury on both steroid production and controlled substance trafficking charges in November of 2017, pleading guilty to both of these charges in March 2018.
What has people so surprised is that a man who clearly abused his position of power over young adults was able to get away with such a lenient sentence. Mueller was only sentenced to just 36 months of probation – avoiding jail time altogether!
Most interesting about this entire situation is that Texas is where the Taylor Hooton Foundation (THF) was originally established. This foundation was created almost 15 years ago in an effort to dramatically improve the awareness of teenage steroid and performance-enhancing drug use, not just throughout Texas throughout the rest of the United States as well.
On top of that, the THF organization has also pushed for much stronger penalties against those that are convicted of peddling performance-enhancing drugs to children and young adults, working with the Texas state legislature to find ways to make the penalty for these crimes as significant as possible.
Coach Mueller, by his own admission, was injecting steroids directly into the bodies of these young students. It's almost impossible to imagine anyone getting off quite as light as he did.
The district attorney, Mr. Dusty Boyd, came forward and defended the sentence offered to coach Mueller. He highlighted that there was no previous track record of bad behavior by the coach, and certainly no felonies on his record – something that would have disbarred him from working with students in his position in the first place.
According to the laws of Texas, the probation was the mandatory sentence for someone with no felony convictions already on his record. This allowed the coach to avoid jail time, though the Texas Education Agency has regulations, and restrictions in place that guarantee felons aren't working in the school system.
If there is a silver lining to this story, it's that Coach Mueller won't ever be able to work with children again in any capacity – neither as an educator or as a coach. This penalty isn't just for the state of Texas, either, but is reciprocated throughout the United States.
District Atty. Boyd did highlight that the case was rather challenging to prosecute.
The students did not want to turn evidence against their coach, especially after they themselves were initially suspended for practicing or playing football for a month. This suspension was eventually overturned (over there since the students had tested negative for performance-enhancing drugs and hadn't been charged with a crime), but they had still lost that practice and game time – making them less than cooperative
Source: http://www.kxxv.com/story/38214685/former-gatesville-coach-convicted-for-giving-steroids-to-students