Major League Baseball (MLB) still has a drug problem, years after the hidden culture of using performance enhancing drugs was blow wide open by Jose Canseco in his tell all book.
It seems like all the time we are hearing about another professional ballplayer being suspended for using PEDs, which is both a good and a bad thing.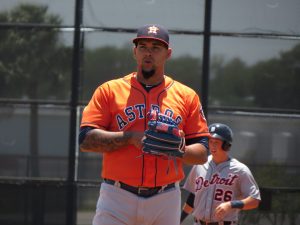 On the one hand, it's proof positive that the MLB is active in making sure that their game is as clean as it can be. The drug testing protocols run by the MLB are some of the most serious in all of professional sports, and so far these protocols have also proven to be some of the most effective.
On the other hand, even with a mandatory 80 game suspension for a first offense, players are still trying to skirt the rules and fly under the radar. They choose to use PEDs, even though the risk of getting caught – and the penalties for doing so – have never been higher.
Today, news out of the MLB is that minor leaguer Yoanys Quiala has tested positive for PEDs.
A top prospect for the Houston Astros (winners of last years World Series), Quiala had been seen as a top hand an one of the best right handed pitching prospects to come out of Cuban in quite a while. Just 24 years old, Quiala had been playing in the minors for a couple of years now and had just recently been promoted to the Double A affiliate of the big league club.
The MLB Commissioner announced the suspension on June 22, 2018, and this made Quiala the 46th professional ballplayer to have been suspended this year alone for using PEDs. The substance that Quiala has tested positive for is the anabolic steroid called Masteron, a substance known to help build muscle and to help players recover faster from their intense training and rehab assignments.
Quiala was thought to be one of the most impressive young pitchers in the game, and it's easy to see why the Astros are so disappointed in their prospect. They released a statement describing their disappointment, and are making it known that they will not tolerate any future slip ups from the right hander.
The Astros made clear that they are in full support of the testing protocols, that they are in full agreement with the results, and that they stand behind both Major League Baseball and Minor League Baseball and their steps to do everything possible to keep the game clean.
At the same time, they were also clear about expressing their support of the now embattled right handed pitcher in their farm system. They wanted to make sure that Quiala will get the support he needs to figure things out moving forward, and that the team is not giving up on the talent that he may be able to bring to the big leagues one day.
They are encouraged at the signs of progress and contrition that Quiala has already shown, and will for sure be giving the very talented right hander a chance to prove himself as soon as the suspension has completed.
According to the Minor League Baseball offices, over half of the suspensions this year have been for anabolic steroids. The most commonly used steroids that result in suspensions have been Winnstrol and Oral Turinabol, which make this suspension for the use of Masteron such an anomaly.
In fact, Quiala is only one of just two professional baseball players to have ever been suspended for using the Masteron steroid.
Quiala has chosen not to appeal his suspension.
Source: C. Rome. June 22, 2018. Astros minor leaguer Yoanys Quiala suspended after testing positive for steroids. Retrieved from: https://www.chron.com/sports/astros/article/Astros-minor-leaguer-Yoanys-Quiala-suspended-13018168.php
Biomedical Science Graduate. After completing the educational and research requirements for a PhD in Biomedical Science, Dan is currently studying at York University in Toronto, Ontario, Canada and has less than a year before joining the Medical Board becoming an MD and qualified Doctor. Dan's educational emphasis is on performance enhancement drugs (PEDs), endocrinology, nutritional supplements and strategies for health, fat reduction, anti-ageing, muscle growth, disease control and vaccinations. Dan has had an interest in learning and writing about steroid use for over 15 years.