A former police officer that had worked with the Edmond Police Department for two decades (before retiring back in 2004) has been identified as the kingpin of a drug trafficking operation, and organization specifically manufacturing and distributing anabolic steroids in the United States.
Chris Caplinger has been charged with these crimes during a grand jury indictment in federal court that was filed on March 20 of 2018. Numerous details regarding the "Vis Vires" underground production operation were revealed during this grand jury indictment, and prosecutors feel that they have plenty of evidence to put Caplinger away for quite a while.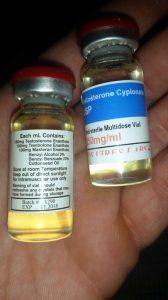 In the process of the federal grand jury proceedings, Caplinger was charged with more than 23 different counts – all of which related to the trafficking of steroids and controlled substances as well as money laundering, the distribution of controlled substances, the maintenance of a drug involved operation, international money laundering, and a number of money spending statutes that violated state and federal law.
The Vis Vires operation was taken down in the fall of 2017 by agents of the US Drug Enforcement Administration while working in conjunction with the Edmond Police Department, the former Department of Caplinger himself.
Officials raided the properties of Caplinger as well as commercial business properties leased in Oklahoma City in 2017. The commercial business property was leased under the name Boss Auto Sales LLC, though investigators believe that this corporation was nothing more than a chef to be used as a front for the underground steroid production operation of Vis Vires.
During the grand jury proceedings, federal prosecutors described Caplinger as a crime boss with a rather extensive and sophisticated operation. He used multiple pseudonyms to control his criminal empire without tying himself to the operation, but apparently it wasn't enough to evade his former colleagues at the Edmond Police Department or federal agents at the DEA. Three other individuals were indicted alongside Caplinger during this grand jury.
According to the prosecutors, Caplinger began manufacturing and distributing steroids (under the "Vis Vires" brand name) as far back as February 2014. This production and distribution continued throughout his arrest in November 2017.
On top of that, Caplinger is also charged with setting up a phony auto sales company to act as cover-up and front for a steroid distribution operation. A number of different named and unnamed co-conspirators worked with Caplinger to set up numerous different PayPal accounts, bank accounts, and online money exchange accounts to help funnel money as well as launder the payments that these customers were making.
Caplinger instructed his co-conspirators to open up a number of different post office boxes throughout the Oklahoma City community, creating numerous fake companies so that he had the opportunity to take advantage of "cash in the mail" payments from the USPS. Some of these phony names included Upper Deck Cards, Vintage Comics, Ultimate Photo Creation, Galaxy Technology, and Uptown Comics.
It is estimated by prosecutors that the Vis Vires operation was able to collect just south of $800,000 in profit from the production and distribution of anabolic steroids. Federal agents seized a considerable amount of this cash when they discovered just over $280,000 buried in the backyard of Caplinger's main residence.
The US government is going after these ill-gotten gains, while at the same time going after Caplinger's primary residence and any other property owned by him – properties they are intending to prove were purchased with this dirty money.
Caplinger and one of his co-conspirators were both arraigned in federal court in Oklahoma City on May 1, 2018. If they are convicted, they could face upwards of 20 years in prison and a fine of half a million dollars.
Source: https://www.dea.gov/divisions/dal/2018/dal050218.shtml