Karsten Kroon, a retired Dutch pro cyclist has admitted to doping offenses after conversations of a confidential nature were released by a journalist. Kroon, who previously rode with BMC, CSC, Rabobank and saxo Bank has committed to using PEDs (performance enhancing drugs) throughout his career as a professional cyclist. He decided to come clean after a journalist decided to leak the sensitive content private conversations and emails. Of course, when talking to the press these things should always be considered as they are known to play unfairly.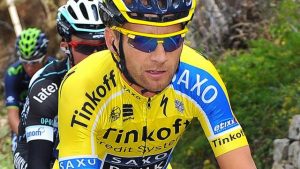 He had been discussing the problems of doping in the world of cycling and revealed his own history of performance-enhancing drug use with a Dutch journalist who works for the newspaper algemeen dagblad. A journalist, T. Zoonveld had also worked as a Ghost Rider for the autobiography by Thomas Dekker titled my fight. Kroon decided to share his performance-enhancing drug use with Zoonveld via a series of private and personal conversations and emails over the past year. At the time, Zoonveld what's involved in a video documentary for the newspaper that Kroon was due to feature in.
The documentary was to feature Kroon admitting to doping offences via VT. However, he decided to pull out before production commenced. Unfortunately, he has made the mistake of trusting Zoonveld with the sensitive information and had assumed that professional discretion would have been exercised. He also believed that being a confidential source would have extended him a certain level of confidentiality but clearly Zoonveld have no intentions of providing these.
The journalist has tried to justify and defend his professional betrayal of the pro cyclist by putting it down to journalistic independence and transparency. In fact, Zoonveld has tried to make it perfectly clear that he was under no obligation to ensure the privacy and discretion of Kroon's admissions of using performance-enhancing drugs were kept private. He continued by saying that as a journalist, it is his duty to expose everything that he may know about certain situations. Regardless of the way that you look at it, there is obviously being a crossing of the wires and miscommunication between the two and what the final outcome would be.
Zoonveld then went on to ask if Kroons past is relevant and whether his use of performance-enhancing drugs should be published in the Press? To which he answered himself that he believes so. He continued by stating that as a journalist, it is his responsibility to take down notes of what he sees and hears, along with anything else that he may know. He made it clear that he is not there to conceal the truth and that he does not offer protection for anyone. He also went on to say that his work will always be as clear and transparent as possible.
The press leak resulted in Kroon admitting to his doping offenses and that he held no respect for the actions of Zoonveld. Kroon also made it very clear that his confession has nothing to do with promoting any documentary or book with the reporter. He said that he didn't want to give the impression that he made the confession to benefit himself and that he has zero intentions of writing a book with the reporter in order to financially benefit from it. Kroon finished off by saying that he believes that the story was released for maximum exposure and publicity as he is due to commentate for Eurosport at the start of Giro. He finally said that he had nothing but the utmost respect for his colleagues who remained clean during their career and avoided the use of performance-enhancing drugs.
Source: http://www.cyclingnews.com/news/kroon-confesses-to-doping-after-dutch-newspaper-exposure/